Menopause Clinic

Mukul Guha
I was nursing superintendent in NRS medical college in Calcutta. I am very scared of menopause. I wish your website should have article or public information about menopause.
Our menopause clinic is dedicated to the needs and care of post-menopausal women. Besides conducting routine screening for gynaecological problems and breast diseases, we also advise and counsel women, and prescribe Hormone Replacement Therapy. Our follow-up services include routine PAP smears, mammography, bone density studies, endocrine and biochemical tests.
Please contact the Life care Centre at 01122414049, 42401339 for more information or to make an appointment, or email us at E mail :- sharda.lifecare@gmail.com.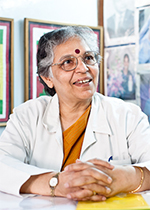 Dr. Sharda Jain

Director Lifecare IVF
Dr. Sharda Jain has conduct
10 workshops & panel discussion
of HRT update
Menopause Hormone Replacement therapy
Email : lifecarecentre21@gmail.com
Phone NO : 011-22414049